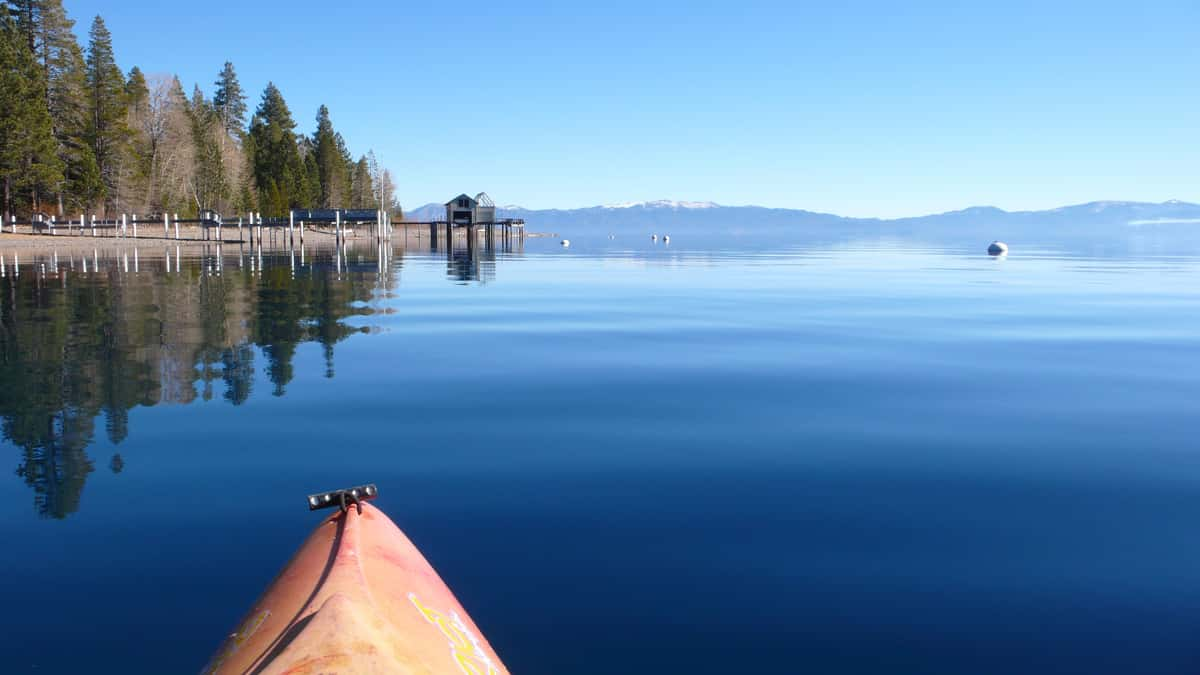 kayak lake tahoe spring
Kayaking Lake Tahoe…in February
As I slid my kayak into the clear blue waters of Hurricane Bay, along Lake Tahoe's west shore, it was as if I was floating on glass. I went north along the bay, passing some of the most beautiful estates on Lake Tahoe to reach the Sunnyside Resort. It was February 18th, the temperatures were in the mid-50s, there was not a breath of wind, and in my hour long paddle I saw a total of zero other boats. Who would have thought that the best kayaking you might ever find at Tahoe would be in February?
It doesn't get more peaceful then a warm winter's day out on the lake. With the motor boats all safely stored away for the supposed winter, there were no wakes to block an unobstructed view to the lake's bottom. The lack of boats also meant that I didn't need to be in a hurry to beat the boats to the water. In fact, it was better to wait until the temperatures were nice and cozy before heading out.
A few reminders about winter kayaking: Make sure it is warm and calm before paddling away from shore. And don't forget that while 55 degrees may seem toasty for winter, you still need to dress warmly and assume that your clothes will get wet. By the way, the water temperature is deceptively cold. Stay out of it.
Where to begin:
With the water now below Tahoe's natural rim, some of the usually popular places to bring your boat (such as The Commons in Tahoe City) now require a long jaunt to get to the waters edge. I like these easy to get to spots:
Hurricane Bay, West Shore. Hurricane Bay is just shy of 4 miles south of Tahoe City. When you are heading south from Tahoe City, It's the first wide open view of the lake. You can park right next to the bike trail, and carry your boat about 75 feet over the pebbles to the lakeshore.
Waterman's Landing, Carnelian Bay, North Shore. Look for Waterman's Landing's small restaurant and parking lot near the eastern edge of Carnelian Bay. They also have seasonal restrooms and kayak and paddleboard rentals. From parking lot to water is just a short little jaunt.
Enjoy!