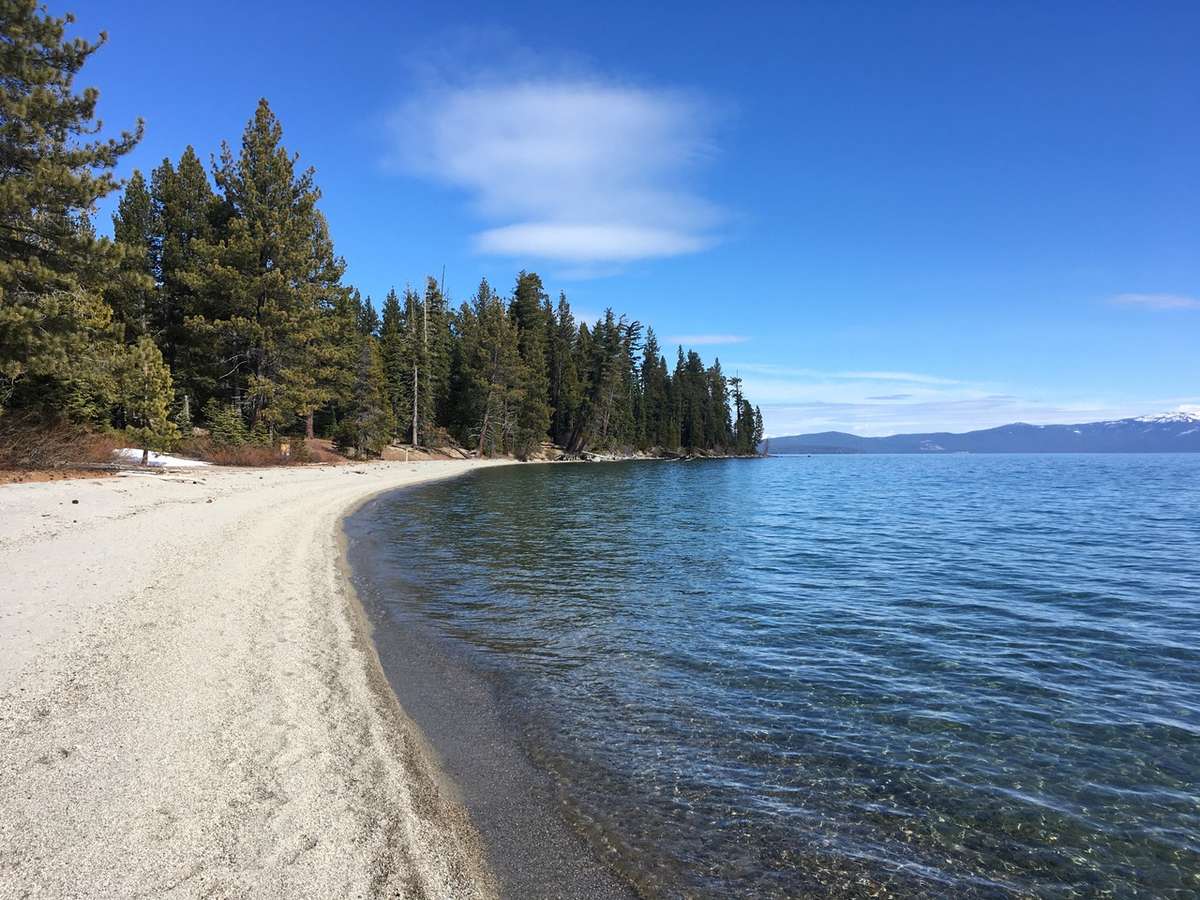 spring hike
Spring Hike on the Sugar Pine Point Trails
When the snow starts to melt, I start thinking about places to hike, and Sugar Pine Point is one of the first places that comes to mind. The trails melt out fast yet are easy enough to be a good first hike of the season. The views of both the lake and the enormous trees along the route are quite spectacular. And, if you time it right, you might have the place to yourself.
Parking is quite limited so a great way to hit the trail is to take the free TART bus, which stops at the Sugar Pine Point campground entrance. From there, get on the bike trail, walk south a bit, and the bike trail will cross the highway to the nature trails. TART runs about once an hour and has a stop right across Highway 89 from Sunnyside Lodge.
Once on the lakeside of the highway on this March Monday, I followed the trail about 1/4 mile down towards the lake to a junction. There I went straight ahead on dirt, while the paved pathway veered right towards the Ehrman Mansion. The trail quickly reaches the lakeshore and then follows the lake north for about a half mile. It's mostly level with gentle footing, but you will want to take frequent breaks to look at the lake, and the ancient sugar pine, cedar and Jeffrey pines.
After a while the trail heads back uphill and runs into a junction. Here a right turn brings you back to the road, I turned left and paralleled the lakeshore to complete a loop. I then headed down to the sandy shoreline and walked south towards the Ehrman Mansion. So far, in about an hour of walking, I'd yet to see another person, which is one of the prime reasons to be hiking this area in the off-season.
When I reached General Creek, it made a narrow bustling path through the sand to the lake. I could turn around, but instead doffed my shoes and scampered across it, finding the water to be what the British might call, "a bit chilly."
As I wandered up the beach and onto the grounds of the mansion, I saw my first fellow visitor. It was a woman in a head to toe fancy green dress twirling down the pier, followed shortly by a man, also formally dressed coming to meet her and twirl together. Then I heard the drone above and realized it must be an engagement photo session. Hopefully the guy in the background walking along the beach with his pants rolled up didn't ruin the perfect images they were trying to create.
Once reshoed, I skittered past the lodge and made my way to the southern boundary of the park, where lakeside views over the blue and green water towards Meeks Bay and the Stony Ridge were to be found. Finally, I completed this easy four-mile loop and was home in time for lunch.